The cost of slow, manual account payables.
If you are paying your bills the old way, you know that slow, paper-heavy process wastes precious time.
Even worse, manual check writing often produces inconsistencies and numerous mistakes. Not to mention
that it's difficult to keep up with the paper trail and reconcile with your bank.
Leave check writing and postage in the past.
Let MotilityPay print and mail checks on the next business
day. Seamlessly integrate with your bank to automate the
creation and delivery of ACH payments.
Simplify your busy work day while completely eliminating your check cost.
MotilityPay works alongside the Accounting module to issue virtual credit cards (vCards) to suppliers. Completely recover the cost of checks.
Productivity at its finest.
Eliminate the manual burden of cutting checks and allow
Accounts Payable to focus on more important tasks.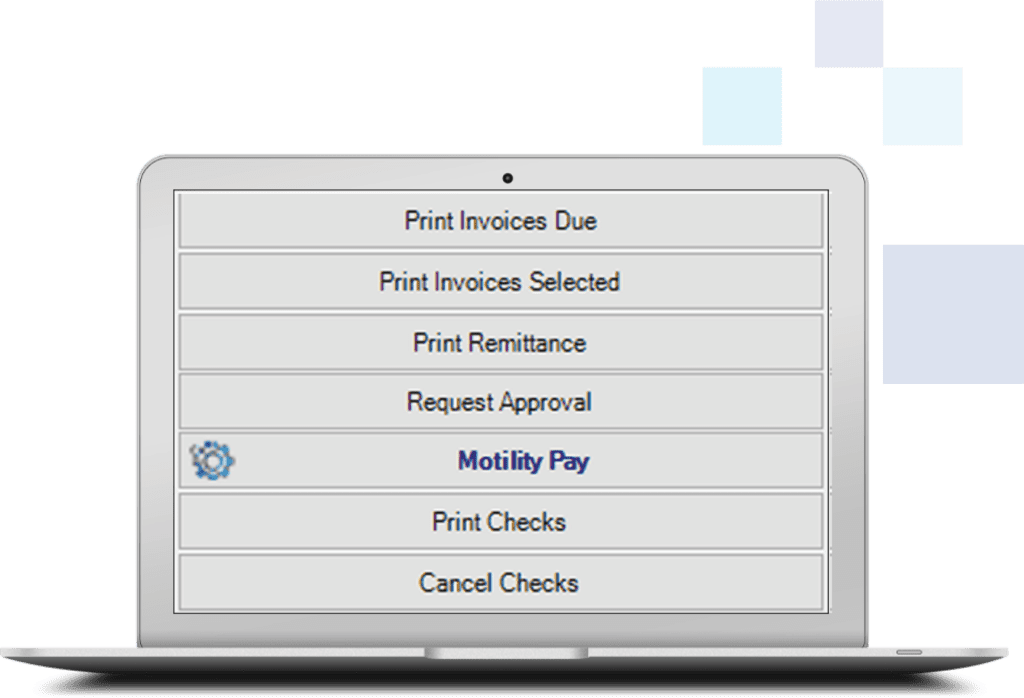 Easy, no-cost bill pay solution.
With a single click, get professionally printed checks, issue vCards, and automate ACH payments
with enterprise-level security features.
Feature
Benefit
No Cost
No cost = no brainer
Enterprise-level security
Peace of mind that your payments are being processed securely.
Seamless Approvals
Fully integrated into the Motility Accounting module for complete oversight and controlled approvals.
Next Day Check Payments
Automatically print and mail checks the next business day with your
existing bank information.
ACH Payments
Automate creation and delivery of your ACH payments. Eliminate the file
uploads and keep your bank reconciliation processes unchanged.
Virtual Credit Cards (vCards)
A secure way to pay with a one-time-use credit card number, issued only
for the amount of the payable.
Positive Pay Files
Integrate with your bank to automate the creation and delivery of positive
pay files. This product has cut my time in half. I could never imagine
going back to the old way of doing things.
We should have done this ages ago. MotilityPay has saved my life!
Erica Meadows, Alliance Bus Group